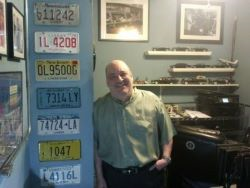 Friday 02/04/22 started off like any routine morning shift. One of my numerous wakeup calls was a 440am for a chauffeur nicknamed "Buzz."
Buzz was starting out with order #287085 which was a transfer of two pilots from their downtown hotel to Bradley airport.
Buzz was far from being a limo driver. He was a truly old school Chauffeur. If a client wanted to change their morning pick up 15 minutes early we would have to check with the driver first. Not Buzz, he was always ahead of schedule. Simply take the change then advise him accordingly.
In fact, claiming I had to wake him up was technically incorrect. Like a small percentage of the drivers out there, he always called to cancel his wakeup call. You can set your clock to him. The consummate professional.
I can honestly say he was part of my inner circle. I would chat with him at least once, 5 mornings a week for over 15 years. However large and diverse my inner circle is I couldn't pick one of them out of a lineup. The nature of my job only allows virtual long-distance acquaintances and I have come to accept that.
That morning Buzz loads his crew at 625am, heads to I-91 for the trip to the airport. My shift had ended at 500am CST and I was on the way home. About 640am EST I get a frantic call from dispatch asking if I spoke to Buzz that morning. I remember chuckling yes to her because everyone knows his record of performance.
Moments later the calls started ricocheting in from all different directions. Something was really, really, wrong. Then, the State Police call. Dispatch immediately patched it through to the manager on duty.
It then became very quiet.
Limousine driver dies after lifesaving attempts from Connecticut troopers on I-91
Despite the life-saving efforts of Connecticut State Troopers, the limousine driver who suffered a medical emergency on I-91 early Friday morning has passed away.